You are viewing all posts for categories: service
We work with drivers all over the wider Mercer, PA area. We can provide the oil change help you require.
Read More

Have you ever put any thought behind how your car comes to a halt as you press the brake pedal? Many of us take the small parts of our vehicles for granted, but once you learn how a brake pad works and how vital they are to the safety of your car, you just may pay more attention to them.
As you press the brake pedal, a cylinder is activated and sends brake fluid through various lines attached to the calipers. These calipers engage the brake pads, which then apply pressure to the rotor directly connected to the wheel.
Considering…
Read More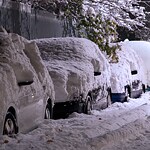 Prudent Mercer drivers have detailed winter maintenance checklists. They know that the right car care ahead of the cold season can both protect the value of their vehicles and ensure the safety of everyone riding in them. At Ben Bissett Chevrolet, we're eager to share two wintertime car care tips that are essential for meeting both of these goals.
Give Your Car a Good Wax
When the roads ice over, you can guarantee that you'll soon be driving over large accumulations of salt and brine that have been set down to expedite melting. If allowed to rest on…
Read More