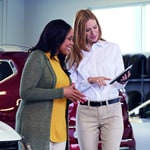 When purchasing a used or certified pre-owned car, truck, or SUV, a vehicle history report is worth reviewing. A vehicle history report tells a story about the vehicle's past history. Several items on the report, cross-referenced from the VIN, reveal detailed information a would-be buyer might find valuable.
Items on a vehicle history report include the number of owners, accident reports, bodywork and routine maintenance, and so on. Based on the information, a shopper may decide whether the vehicle is worth purchasing. A car with one owner and on-time visits to a service center may appear to be a preferable purchase.
Not all vehicle history reports reflect the same quality level, though. Shoppers benefit from credible reports that maintain a top reputation in the industry.
The inventory at our Mercer dealership features many vehicles shoppers may wish to purchase. BEN BISSETT CHEVROLET, INC. could assist shoppers seeking information about a pre-owned model.