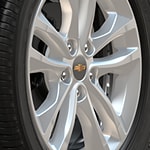 The Chevrolet Malibu is at the top of the sedan class with an incredibly sleek cabin and amazing performance options. There are multiple versions of the Malibu, ensuring that you get the right engine for your performance needs. At its core, the Malibu offers 163 horsepower with the turbocharged base edition, which is why you may want to check out the premium Malibu models if looking for more power.
The turbocharged 2.0-liter four-cylinder is available with the Premier Malibu edition. The handling and steering are smooth, making the Malibu easy to drive even in traffic or on winding roads. The fuel economy numbers also show that the base Malibu gets 34 mph on the highway.
How can we help you get into a new car? You could schedule a test drive for the red-carpet experience at our Mercer, PA location. Stop by to see all the new Chevrolet models at Ben Bissett Chevrolet.